Sit Rep: Dead Zone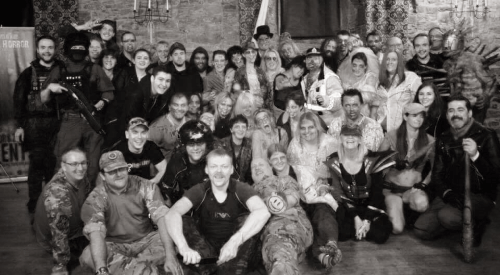 © Castle Horror - Dead Zone - Group Photo
On Saturday the 8th of July, a Zombie event took place in Dundee at Mains Castle, run by the extremely talented folks at Castle Horror. I was there (I live only about 20 minutes away), but not in the guise you may think.
The story to this low-key Generation of Z style event, run entirely by volunteers, was pretty simple. Last year, summarised in a previous horror event I sadly was not privy to, a small-scale Zombie outbreak occurred and it was up to a team of soldiers known as ZORT (Zombie Outbreak Response Team), a pack of untrained civilians in tow, to recover a vial of Zantidote - the miracle vaccine for the Zombie virus. However, this year, in the Dead Zone event, the Zombies kept under lock and key at Mains Castle, broke out and started to overrun the ZORT defenders. The order was to pull out and leave the castle for the dead. Civilians in the area (paying members of the public) were forced to complete various tasks in order to "prove their worth" and earn a place on the evacuation transport.
So, basically, small groups of people went around the grounds of Mains Castle, encountering placed Zombie actors along the way. Now for the really cool part... I was one of those Zombies! To make sure I was up to snuff, I had to go to Zombie school a few weeks before-hand; where I learned how to act like the walking dead, mentored by the professional Zombie trainers (what a job title!) at Scare Scotland. It is important to note, we were only trained in the arts of the slow, shambling Zombies and not the modern-day sprinters - since slow Zombies are my favourite, this was pretty much a win-win for me anyway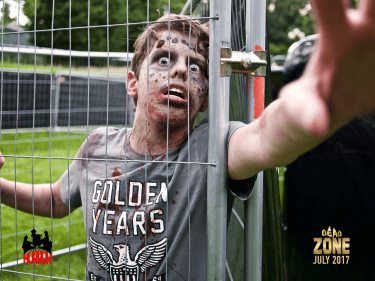 I was quite nervous when event day came around but, once me and all the other Zombies got into costume and were given sexy make-up to look appropriately dead, the nerves went away completely. My spot for this undead nightmare was the large grassy area at the front of the castle, where members of the public had to actually move through an open area containing four other murderous ghouls (one trapped under a motorbike) to collect a series of (fake) explosive charges. I had a blast - it was a really awesome experience and quite honestly the most fun I have had in a long time (being a full-blown nerdy Zombie-phile, they don't let me out much). When the customers came around the corner and started hunting for the explosives, the Zombies - me included - went after them; not directly or immediately but haphazardly, like a living dead person with very little coordination or intelligence would - mildly groaning at the sight of potential food. There was one ZORT officer in our area who kept taking us down once we got too close (there was one time where he didn't see me and I had to do a comedy trip to get out of the way - we are not actually allowed to eat the paying customers unfortunately). A few times, after several takedowns (just like John McClane from Die Hard, I always seemed to be in the wrong place at the wrong time), I pretended my spine was broken and started dragging myself across the grass, occasionally reaching up towards customers as they passed by - pretty tiring after the sixth or seventh group went through but tremendous fun.
Then there was the big finale. When customers had gone through all the set-pieces and traversed the small-scale Zombie maze, they were presented with a sight they did not expect to see; a Zombie dressed up as Winslow from The Walking Dead and UK Negan, a celebrity look-a-like (and sound-a-like) for Negan, also from The Walking Dead - and, yes, he was doing his famous "peeing your pants yet?" speech.
The event appeared to go down well, with lots of people giving it the 'like' badge of honour on Facebook, a few also leaving positive reviews. A couple of people came up to me after the event to say I was "amazing" at being a Zombie which is a nice bonus and a confidence boost - thanks goes to Castle Horror for paying them to do that. 😊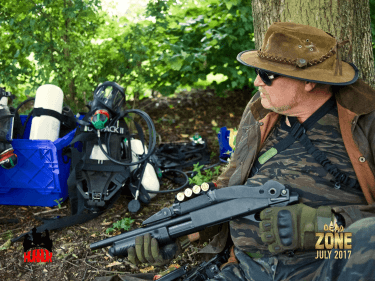 So what's next from Castle Horror? Well, there's a Horrorween event planned for October in Perth and, I believe, a Christmas event is in the works - keep an eye on www.castlehorror.com for more information. I'm also really hoping there is a follow-up event to Dead Zone next year.